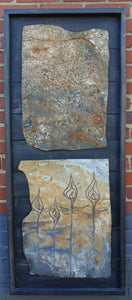 The Winder Binder Mercantile
Daniel Johnson - Washing Machine - Double Panel
Regular price
$800.00
$0.00
Daniel Johnson - Chickamauga, Georgia

Daniel uses an automotive die grinder to work images into the recycled metal washing machine bodies, along with sanding and scratching the surfaces.  Work is then left in the elements until the grinded areas begin to rust.

This is one of our favorite pieces from Daniel and was actually was in a private collection for years. 

On Daniel's property, he had his grind house and the outside was clad with unfinished metal pieces.  When Daniel moved to a new home, he dismantled the grind house and we were lucky enough to get these rough, but beautiful, pieces.  It took years of weather to get the perfect patina.

The framing, built by artist Chris Beck (Dalton, Georgia), was made from East Tennessee hardwood and milled at small, private, saw mill in the 1970's.

The picture really do not do it justice (much more oranges and browns) and we will try to get better pictures soon.

Price includes rustic mounting frame by artist Chris Beck (Dalton, Georgia).

53 inches tall
22 inches wide

Retail price includes a $200 shipping fee.
(either by truck transport or personal delivery up to 400 miles from Chattanooga)

If you would like to pick up any work in person at the gallery, the shipping portion of the retail price will be refunded to your credit card.
---
More from this collection