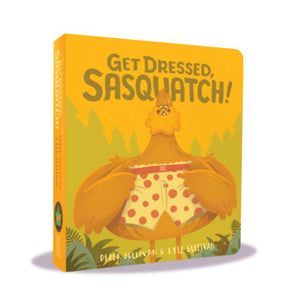 The Winder Binder Mercantile
Get Dressed, Sasquatch!
Regular price
$13.95
$0.00
Get Dressed, Sasquatch!
Contributor(s): Sullivan, Kyle (Author) , Sullivan, Derek (Illustrator)
ISBN: 0996578730    EAN: 9780996578738
Binding: Board Books
Pub Date: September 11, 2018


Description:
In the Pacific Northwest, the trees are always green, the eagles are always stern and Sasquatch is always, well, naked.
But what happens when a rule-touting ranger shows up to ask Sasquatch to put some clothes on? Find out in this story of mountainous fun and evergreen hilarity.
Visit hazydellpress.com for free education guides and activities perfect for schools, libraries, homeschool and stay-at-home learning.
Incredibly imaginative and funny artwork -- Creators Syndicate
Buoyant silliness and a positive message about being free to be oneself. -- Booklist
This witty little board book by Derek Sullivan and Kyle Sullivan features a naked Sasquatch and a park ranger who wants him to follow the rules and put on some clothes. Set (and written) in the Pacific Northwest, it's a fun rhyming tale of freedom and compromise in the great outdoors. -- The Seattle Times
The art is fun and the story is too, so grab yourself a copy...You won't be disappointed! --GeekDad.com
---
More from this collection