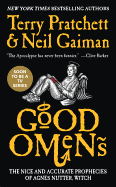 The Winder Binder Mercantile
Good Omens: The Nice and Accurate Prophecies of Agnes Nutter, Witch
Regular price
$8.99
$0.00
Good Omens: The Nice and Accurate Prophecies of Agnes Nutter, Witch

Contributor(s): Gaiman, Neil (Author), Pratchett, Terry (Author)
ISBN: 0060853980   EAN: 9780060853983
Binding: Mass Market Paperbound
Pub Date: November 28, 2006
Description:
From two delightful imaginations comes a comic masterpiece in which the Four Horsemen of the Apocalypse ride motorcycles, the hound of the devil chases sticks, and the end of the world is subject to Murphy's Law. "The Apocalypse has never been funnier."--Clive Barker.
Jacket Description/Back:

According to The Nice and Accurate Prophecies of Agnes Nutter, Witch (the world's only completely accurate book of prophecies, written in 1655, before she exploded), the world will end on a Saturday. Next Saturday, in fact. Just before dinner.
So the armies of Good and Evil are amassing, Atlantis is rising, frogs are falling, tempers are flaring. Everything appears to be going according to Divine Plan. Except a somewhat fussy angel and a fast-living demon--both of whom have lived amongst Earth's mortals since The Beginning and have grown rather fond of the lifestyle--are not actually looking forward to the coming Rapture.
And someone seems to have misplaced the Antichrist . . .
---
More from this collection