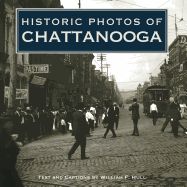 The Winder Binder Mercantile
Historic Photos of Chattanooga
Regular price
$37.99
$0.00
Historic Photos of Chattanooga

Contributor(s):
Hull, William F
 (Text by (Art/Photo Books))
ISBN: 1683369092    EAN: 9781683369097

Description:
HISTORIC PHOTOS OF CHATTANOOGA captures the remarkable journey of this city and her people with still photography from the finest archives of city, state and private collections. From the Civil War through Reconstruction, the rise of industry, World Wars and into the modern era, Chattanooga has remained a unique and prosperous city. With hundreds of archival photos reproduced in stunning duotone on heavy art paper, this book is the perfect addition to any historian's collection.
---
More from this collection