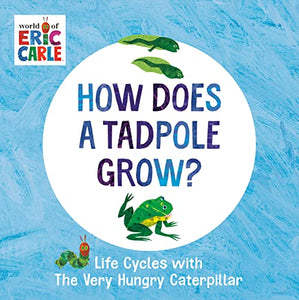 The Winder Binder Mercantile
How Does a Tadpole Grow?: Life Cycles with the Very Hungry Caterpillar (World of Eric Carle)
Regular price
$4.99
$0.00
How Does a Tadpole Grow?: Life Cycles with the Very Hungry Caterpillar (World of Eric Carle)
Contributor(s): Carle, Eric (Author) , Carle, Eric (Illustrator)
ISBN: 0593386256    EAN: 9780593386255
Binding: Board Books
Pub Date: June 07, 2022

Description:
Learn how a tadpole becomes a frog with Eric Carle's classic artwork and The Very Hungry Caterpillar!
In this nonfiction story, young readers explore the transformation of a tadpole into a frog. The miracles of nature come to life in this early-learning series centered around life cycles, featuring simple text and Eric Carle's classic illustrations!
---
More from this collection