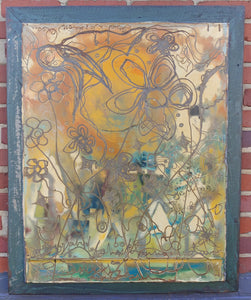 The Winder Binder Mercantile
Daniel Johnson - Washing Machine - Single Panel
Regular price
$645.00
$0.00
Daniel Johnson - Chickamauga, Georgia

Spray paint and acrylics on a metal washing machine body.  Daniel uses an automotive die grinder to work images into the metal, along with sanding and scratching painted surfaces.  Work is then left in the elements to until the grinded areas begin to rust.

Price includes rustic mounting frame by artist Chris Beck (Dalton, Georgia).

Dimensions (including frame)
38 inches tall
30 inches wide

Retail price includes a $150 shipping fee.
(If shipping price is more than 10% less than $150, the difference between estimated and actual shipping will be automatically returned to your credit card.  We are not in the business of making money from shipping art.  And if it is more than $150, the gallery will incur the additional costs.)

If you would like to pick up any work in person at the gallery, the shipping portion of the retail price will be refunded to your credit card.
---
More from this collection